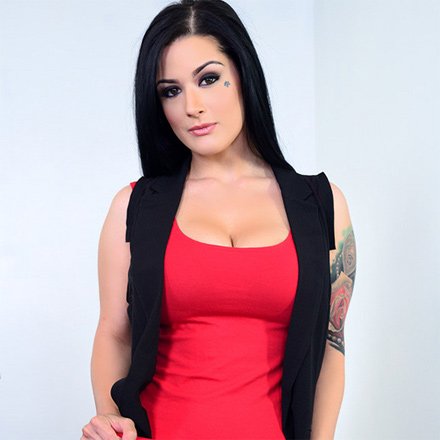 Katrina Jade is a girl who really caught my eye because at least in this set, she's got a remarkable look like Kat Von D, minus most of the ginky tattoos. She's super sexy with a nice rack and a pussy in need. She's working as an HR manager, and let's say she has some interesting methods for handling things:
Danny goes to talk to his HR person, Katrina Jade, about how his female co-workers have been groping him. Instead of helping the problem Katrina makes it worse by groping Danny as well. Danny decides to give up and just go with the when in Rome attitude and begins fucking Katrina's pussy on the HR table.
Problem solved – she gets her pussy fucked deep and hard with his big cock, he gets his rocks off, and she ends up with a face full of cum!